How much do you really know about Feng Shui? Do you apply it to your life? Have you seen results? My New Years Resolution this year is to give you more! More content, more answers, more of whatever you need having to do with feng shui and healthy, happy living.
To start, I thought we could tune into the life of a feng shui newbie and follow her journey as she moves her stuff to change her life. My business manager Sara quickly volunteered for the assignment when I told her this idea because she already is seeing great results from one little basic tip I told her.
So, as we travel through, you'll get to peek into her life here and there, and hopefully learn how to use feng shui for yourself through her experiences.
This is going to be like a feng shui soap opera (without all the heavy drama hopefully!) Let's call this series "Sara's Movin' It!"
Are you ready? Let's do this!
Sara's journey started by asking me this question:
"How can I get my desk in the best position in my home office so I can get more "good quality" clients and make more money doing what I love? I want to quit doing bookkeeping (I only do it for the money – trust me!) and concentrate on being a virtual assistant full time.
I currently face a wall and that wall happens to be the same wall that the office door is on. I keep hearing you say not to face a wall like that on your calls, so HELP!"
Here's a picture of her desk and office before she did anything: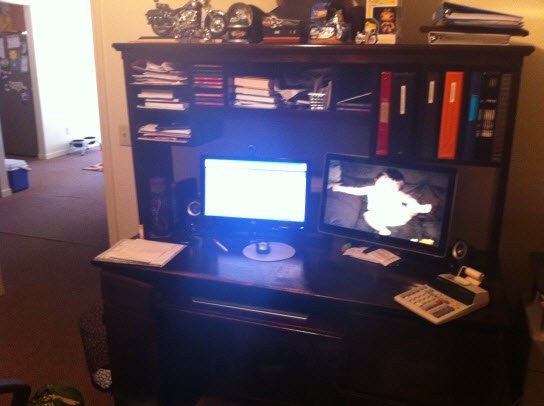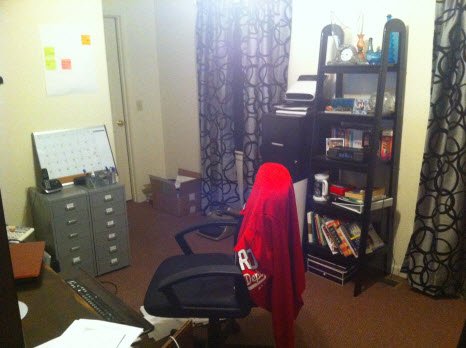 So tell me Sara, how do you think you'd feel if you sat at that desk all day trying to get more clients and make more money? I'm imagining you're saying something like "stuck," "trapped," "overwhelmed," or something like that (right?)

That weekend, Sara got busy moving her office furniture around. Here's her write up of the results so far (see the "After picture" of her office below):

"Wow, I can't believe the changes, actually I can but it's been such a huge change. First of all I feel more free, I think staring at a wall everyday was affecting me more than I knew. Now I feel so in charge:-) I also feel more relaxed and in control (in a good way, not a crazy control everything way).

When I spoke to Karen on the Live call she asked me what the main result was that I wanted by rearranging my office. I told her more clients. I was currently doing bookkeeping for a company (and I really didn't love it and had been doing it for years). I was also making some other changes in my business and I wanted to attract the right clients.

In the months since making the changes I have on average 2 potential clients contact me a week. Some of these are through my website, some word of mouth/referrals, some I worked for in the past and decided they wanted to work with me more long term. In a nut shell, I am turning down clients! Now some are not my ideal client, some I don't have a desire to do the type of work they need, etc. so I happily refer them on to other people I trust and that I know can help them.

And the big payoff? As of Jan 31st I will no longer be doing the bookkeeping!!! That was really the ultimate goal for me, to have my client base high enough so that I didn't need the bookkeeping. What's interesting is since the change my hours with Karen have doubled and she is my ideal client:-)

You may be saying I had to of changed something else in my business, nope I am still doing things the same. Does moving furniture based on feng shui really make a difference, what do you think? And ALL I moved was my desk, nothing else!"
I will update you at least monthly on Sara's progress. She is starting the Move It With Karen Membership – check it out here!) because she wants to make 1 change at a time and notice the results. She is married, has 3 kids, and works full time from home, and says she doesn't want to overwhelm herself. As you can see: Even busy people can Move Their Stuff and Change Their Life!
To learn how to Move Your Stuff and Change Your Life and get YOUR personal questions answered by me, join my monthly membership below!